Where to Start: Basement Renovations Made Easy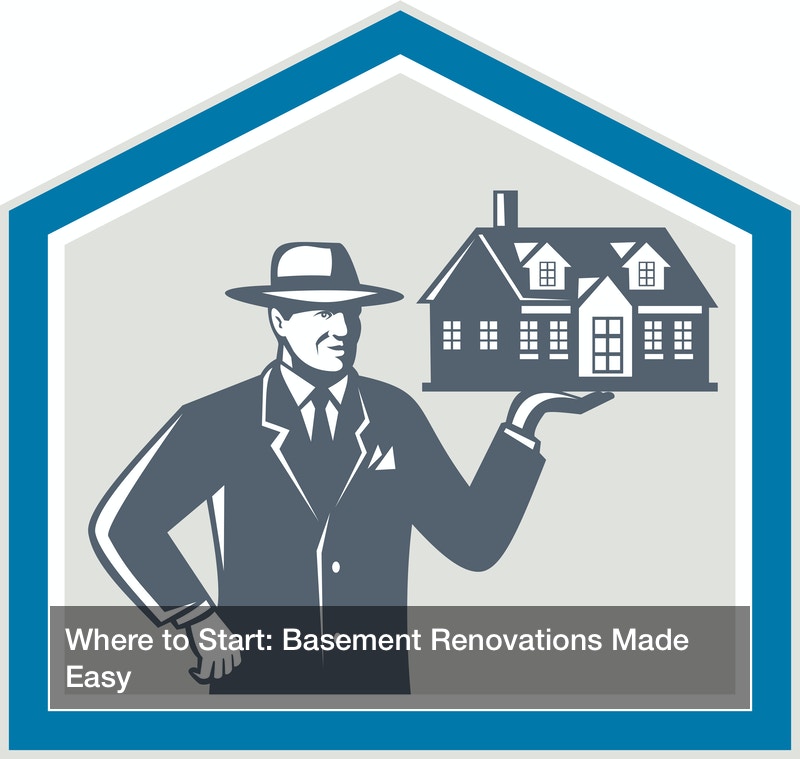 Is your basement a space you avoid showing guests? Have you always wanted a home movie theater? Or maybe a fully equipped home gym? Or even a quiet home office space? Does your home have an unfinished or partially finished basement? If so, you're in luck! Because today we will discuss all the options you have when embarking on the journey towards the basement you've always wanted.
Having unused space in your home just feels wrong, and an unfinished basement screams of missed opportunity. There are so many different things you can do with an unfinished basement. However, the wealth of opportunity for your unused space can often be overwhelming. Finishing your basement is no easy task, but can prove to be hugely rewarding.
Far too many people think that taking home improvement projects of this magnitude are not worth the time or the money. However, with extra living space in your home, you can improve the value of your home and your quality of life. If you are feeling that this is an unobtainable goal, keep in mind that the home improvement industry in America improved by over 5% in 2019. That being said, it is well worth taking the time to ensure you properly convert your basement into a living space. Do not rush into such a big project. Below you will find a list of tips, tricks, and important things to keep in mind when you being to take on such a project.
Where to Start
As with any home improvement adventure there are more than a few things to think about before you begin building your dream basement. First, what kind of space are you looking for? Do you want an entertainment space, an exercise space, a workspace, or something entirely different? This is the first thing you have to decide.
Decision Time
If you love having people over and entertaining a large group, then you should consider taking the entertainment space route. Basements typically have very open layouts that offer exceptional spaces for entertainment with adequate seating and room for a crowd.
If you're addicted to working out and hate the drive down to the road or the crowds at your local gym, consider turning your basement into a home gym. Again, the open spaces that basements have can allow for more than ample space for an exercise room.
Do you have in-laws or family friends that you often put up in a guest bedroom? If so, maybe you should go with an apartment space that offers single floor living space for those guest that may require a little more attention.
Are your kids to rambunctious to be contained by the living room space you currently have? Well then consider turning your basement into a play space for kids or teenagers.
If you work at home and are tired of shelling out the monthly cash for a rented workspace or you're sick of making your living from the chaos of a crowded coffee shop, then you should consider converting your basement into a workspace for yourself.
At the end of the day, the world is your oyster, and whatever option best suits your needs is going to be the best for you and your family. If you have enough space to do more than one of the above ideas, then go for it! This is your space, and it is time you start acting like it!
The Planning Phase
After you know what kind of space you are going for, it's important to come up with a list of must-haves for your space.
Once you've nailed down what kind of space you and your family are looking for, you have to take a serious look at your budget. As a homeowner, I am sure you are painfully aware of just how costly it is to maintain and continue living in your home. So, when it comes to major home improvement projects like finishing a basement, it is important to understand that it will not be cheap. That being said, it is also helpful to keep in mind options like contractor funding, also known as a "self-build-loan," which can allow homeowners to put down the necessary capital for such a large project.
Once you have settled on a budget- and accepted the fact that you will likely exceed that budget- you then have to decide if you want to go it alone, or enlist the help of a contractor.
There are certain elements of a basement remodel that need to be taken care of by professionals unless you have extensive experience doing such skilled labor. For example, you will need to enlist the help of a local plumber to install running water or a functional toilet in your new basement. The same goes for electrical work. Do not forget that skilled labor tasks can be dangerous, and if you do not know how to complete them properly, they can cause serious. The last thing you want is to find yourself in an urgent care center for a construction-related injury.
When you are trying to decide if you want to take on a DIY (or do it yourself) project, keep in mind that doing so can lead to damage to your home or yourself if done improperly. Some building projects a permit to complete, this is typically a good indicator of a task being too difficult to complete on your own.
Taking on DIY projects can be fun and often can save you a tremendous amount of money. If the task is relatively simple and doesn't require extensive safety knowledge, then you should give it a shot. However, if you have any hesitations about your ability, do not hesitate to call the pros.
The Action Phase
Getting started once you have a plan all laid out is the hardest step for a lot of homeowners. Breaking ground on a new project is scary, and it can feel like it is all or nothing. Keep in mind that a huge percentage of remodeling projects take years to complete, especially if you decide to do a lot of it yourself. So start now!
Before you break ground on your new project, you will want to enlist the help of an HVAC (heating, ventilation, and air conditioning) professional who can help you with duct fitting and reliable ac repair. If your basement is going to be a comfortable living space, it will need adequate ventilation.
Unfinished basements are often home to all sorts of pests and critter. So after your ventilation has been taken care of, you will want to call an exterminator who can handle pest management.
Along with pest issues, basements often suffer from moisture problems. Keeping moisture out of your foundation is crucial for a successful basement remodel. To keep your basement dry you will need to do regular gutter maintenance.
The Fun Part
Once you've done all of your due diligence, making sure that your basement will be a safe, comfortable space to live in it is it time for the fun part. After you have decided what jobs you need to delegate to a professional, it is time to start choosing exactly how you want your custom home space to look. The best part of any home improvement project is getting to tailor you to the exact specs you have always imagined.
Flooring and Walls
Any finished basement should feel like an improvement or an extension of your already finished home. This means that if you have hardwood in the rest of your house, you might want to consider continuing that theme. The same goes for wall finishing and moldings. However, if you are creating a space you want to be cozy or intimate, you may also want to consider intentionally breaking the décor themes of your home. Doing so can create a feeling of escaping the rest of your house without ever leaving.
Starting your home improvement project with high-quality walls and floors is the best way to begin. The choices you make in this stage will determine the overall feel that you space cultivates. So if you are going for a more man cave type media room, consider darker colors, plush carpeting, and sharper lines. However, if you are looking to cultivate a welcoming party atmosphere, you should consider brighter colors and maybe sticking to hardwood floors or going with a very fine carpet.
Walls can be tricky; without the advantage of natural light, it is often hard to envision how your walls will look before they are completed. Built-in cabinets and storage space are something you should consider taking advantage of. No matter what kind of space you are building, you must not forget that your unfinished basement was probably used for long term storage. So don't go getting rid of all your storage space just yet; you'll always need a space for boxes, holiday decorations, or the like. Without the space that is taken up by windows, there will be a lot more wall space than may originally bargain for. Consider continuing the hardwood aesthetic if that is what you are planning for floors, making this decision is often very pleasing to the eye. Light-colored hardwood panels can also cultivate a brighter space.
The finish of your walls and floors determine how loud your basement is going to be. If you have a space that is prone to echoing, then make use of the carpet whenever possible. That being said, there are some tricks to noise dampening that can be used even on hardwood surfaces. If the space is too loud, large hangings on your walls can dampen noise as well as area rugs and carpets.
Lighting
Having proper lighting in your living space can make or break your home improvement project. Without the advantages of natural lighting -unless you have a walkout basement, of course- it can be challenging to have adequate light in your space. Even when you're creating a home cinema or media room you need to have proper artificial light for when you don't want to be pretending you're in the theater.
Making your lighting decisions early on is crucial to the success of your home improvement project. Taking advantage of ground level half windows is highly recommended if at all possible. However, when natural lighting simply isn't possible, make use of ceiling lights that continue the aesthetic of your space. Basements that are laid out with an open floor plan are much easier to light properly, so keep that in mind when you are planning your floor layout. Make use of carefully planned lamps and auxiliary lighting in corer spaces, or nooks that don't get light otherwise.
Furniture, Décor, and Overall Aesthetic
Here comes the phase you have all been waiting for. If you've come this far, you know that your home improvement project is going to be completed. This is the part where your basement really comes to life: furniture. At this point in your project, you should already know what kind of space you are trying to cultivate. It is important to keep a uniform aesthetic moving into the decoration phase. Having a disjointed decorating scheme will throw off all the hard work you've already put into your home improvement adventure. So, take a trip to the furniture store and craft the look you have worked so hard for. The possibilities for your basement are entirely endless. Do not feel restricted by the style that the rest of your home already has, your new basement can be a fun opportunity to get creative with your interior decorating.
NOW IT'S YOUR TURN
With all your plans made, and all of your dreaming done, it's time to build the living space that you've wanted your whole life! Planning and imaging the possibilities for your space can be fun and very time-consuming. Still, there's no substitute for beginning your project. This is a fun and exciting time in the life of your home, and you must treat it as such.